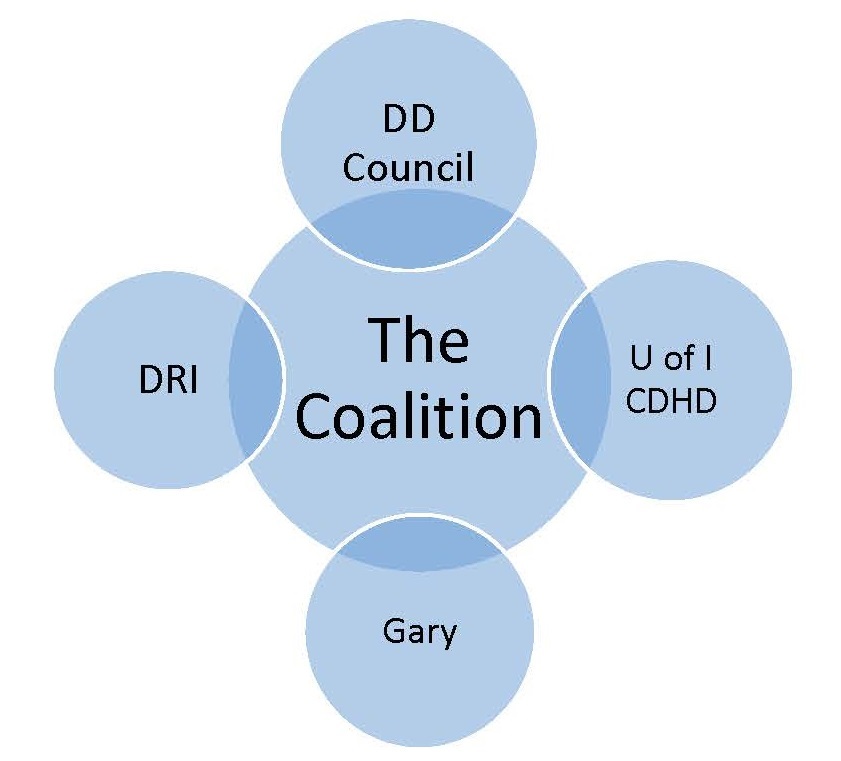 In 2016, after hiring a contractor (Gary Sandusky – Connexus LLC) the Council identified a cluster of engaged Partners in Policymaking graduates in the Idaho Falls area. This strategy was used to begin coalition work because the Partner experience previously established mutual respect and support among these members. This core group and additional family members and leaders with disabilities are now provided support and training throughout the year. The Coalition and the contractor are also intentionally reaching out to Latino families and Shoshone Bannock tribal members in order to create a coalition that is culturally and linguistically diverse.
Developmental Disability Network partners (ICDD, Disability Rights Idaho and the Center on Disability and Human Development) are required to share an annual goal under our federal funding. The formation and support of a Statewide Advocacy Coalition is our shared goal.
Current Project & Activities
ICDD, the Statewide Advocacy Coalition, and Close the Gap Idaho collaborated on two press conferences and two policymaker luncheons in 2017.
Press Conference, Boise (Thursday, October 26) – Debra Parsons, Council Chair; Council members; and Close the Gap Idaho unveiled "Why Healthcare Matters: Stories from Idahoans", a collaborative publication of the Council and Close the Gap Idaho, and to share concerns about the proposed tax bill at the federal level.
Press Conference, Idaho Falls (Tuesday, November 7) – Debra Parsons, Council Chair; Advocacy Coalition members; and Brian Whitlock, CEO of the Idaho Hospital Association announced the publication "Why Healthcare Matters: Stories from Idahoans", and to share concerns about the proposed tax bill at the federal level.
Policymaker Luncheon, Boise (Saturday, October 28) – St. Alphonsus hosted the policymaker luncheon featuring Jessica Rachels, Council member and two Partners graduates discussing their experience being in the health care coverage gap, and the value of Home and Community Based Services through Medicaid, and having access to Home Care for Certain Disabled Children option (Katie Beckett). In attendance were Council members, state legislators, Congressional staff of Senator Crapo, Congressmen Risch and Simpson, the Lieutenant Governor's office and the Governor's office.
Policymaker Luncheon (Wednesday, November 8) Rexburg Mayor Jerry Merrill welcomed state legislators, staff of Congressman Crapo, Risch, and Simpson; 30 social work students; the Council and Statewide Advocacy Coalition members to provide education about the Idaho Health Care Plan. Coalition members Lana Gonzales, Shiloh Blackburn, and Kevin Swearingen shared information about Home and Community Based Services and concerns about the tax bill and cuts to Medicaid funding.
Publications Related to Goals & Objectives
Related Materials & Resources
Related Five-year Plan Goals & Objectives
Goal #3: Leaders with intellectual/developmental disabilities are engaged with other people with disabilities and family in a statewide coalition that has a strong, collective voice on policy issues and systems change.
Objective 3.2
By September 2019, establish a statewide, culturally diverse coalition of people with disabilities and families who have been trained and are supported each following year of the plan to advocate at the local and state level on policy issues.