Pen Pal Club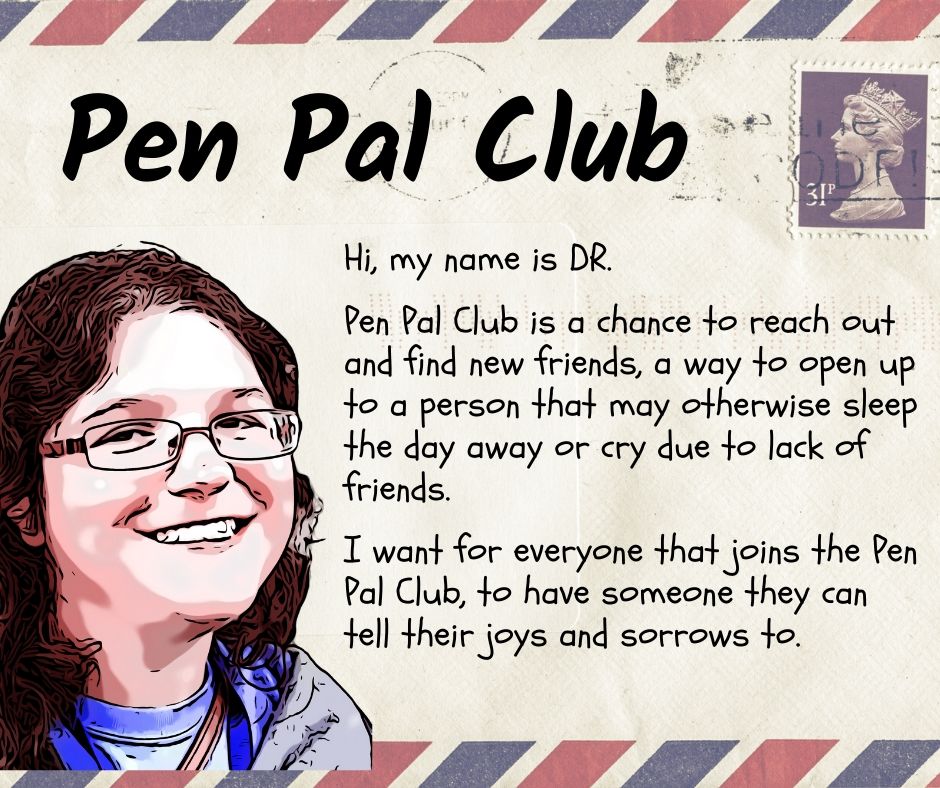 Tired and bored from staying at home? Do you want a pen pal during COVID-19?
The Idaho Council on Developmental Disabilities and their Vice-Chair DR Reff welcomes you to Pen Pal Club.
We are creating the chance for anyone who wants a pen pal to email, mail, text, call, or share your artwork. During this time of crisis, it is important we keep friendships and invite new ones into our lives. The purpose of the Pen Pal Club is to help connect people who may be feeling isolated or lonely. Let's help connect people!
Once a pen pal has been found for you, you will get an email that includes the name of your pen pal and rules of conduct. It may take a while to connect pen pals, but if you don't hear from us within ten days please email trisha.hammond@icdd.idaho.gov.
Cultivating Compassion and Reducing Stress: Thursday July 9 1:00 PM – 3:00 PM (MDT)

Do you spend significant amounts of time caring for others in your job or personal life? Does your life sometimes feel overwhelming or stressful? Do you think more about the past or future rather than being fully present in whatever you are doing?
If so, you are not alone.
Mindfulness practice can help by bringing a sense of clarity, purpose and lightness to our minds and spirits.
The Idaho Council on Developmental Disabilities invites all individuals with I/DD, family members, and support staff to learn more about Cultivating Compassion and Reducing Stress during a Zoom meeting with Peter Leidy on Thursday July 9th, 1:00 – 2:30 PM (MDT). Register in advance for this meeting at https://bit.ly/Leidy-Compassion
Peter Leidy has been learning from people with disabilities since 1983. Peter is a consultant, facilitator, listener, learner, improviser, and speaker who focuses on personalized supports and community membership for people with disabilities. He also writes and sings songs about human serviceland and those who find themselves connected to it. He writes a blog called "Just Curious".
¿Pasa usted cantidades de tiempo significativas cuidando de otros en su trabajo o en su vida personal? ¿Siente que en algunas ocasiones su vida es abrumadora o estresante? Piensa más acerca del pasado o del futuro en vez de estar completamente en el presente de lo que sea que usted este haciendo?
Si es así, no está sola.
El practicar la meditación puede ayudar a tener un sentido de claridad, propósito y ligereza a nuestras mentes y espíritus.
El Consejo de Idaho sobre Discapacidades del Desarrollo invita a todos los individuos con discapacidades I/D, miembros de familia, personal de apoyo a aprender sobre "Cultivando la Compasión y Reduciendo el Estrés", via Zoom, con Peter Leidy, el jueves 9 de Julio, 1:00-2:30PM. Regístrese en avance para esta reunión en https://bit.ly/Leidy-Compassion
Peter Leidy ha estado aprendiendo sobre personas con discapacidades desde el año del 1983. Peter es un Consultante, Facilitador, Escuchante, Aprendíz, Improvisador, y Orador que se enfoca en apoyo personalizado y membrecía comunitaria para personas con discapacidades. También escribe canciones sobre la "tierra de Servicio" y aquellos que se encuentran conectados con esto. El escribe en un blog llamado "Curioseando".
COVID-19 Resources and Information
Department of Health and Welfare – COVID-19 Updates
Department of Health and Welfare – Information Releases
SARTAC – Plain Language Information
Support Flyer – Spanish Version
Ask Art
GCPreguntas y Respuestas de Art
Managing COVID-19 Stress with Dr. Desai
Worry Basket Meditation Audio File
Ask Dr. Stumph
Ask Dr. Silva
Coping Strategies Panel
Spanish Coping Strategies Audio/Video
Coping Strategies Panel Transcription
Spanish Coping Strategies Panel Transcription
Laughter Yoga – Risa y Yoga